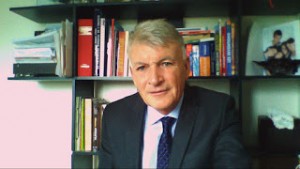 By Robert Frank
www.thesuburban.com
Jean-Claude Gobé has launched his campaign to become Laval's next mayor by stressing unambiguously the need to include all Lavalois in the life of the city.
"I've toured Laval and met people from every walk of life," he told The Suburban during a March 21 interview, "social, business and environmental groups, as well as members of Laval's cultural communities including Greeks, Lebanese, Italians and Haitians."
"Cultural communities make up about a third of Laval residents," reminded Gobé. "We ought to make a special effort to involve these people."
"At the end of the day, we are all Canadians, Québécois and Lavalois," he added. "Every one of us is a citizen and ought to be able to participate fully in politics—or any other aspect of our society."
Gobé is preparing his election campaign deliberately and methodically, like the infantry officer that he was before he emigrated from France to Canada in 1972. He said that his political party, Action Laval, plans to field candidates in every district during the upcoming municipal election in November. However, he is taking his time to vet prospective candidates carefully.
"A good number of men and women have expressed an interest in running under the Action Laval banner, and we expect to announce our slate in late April or early May," he promised.
Gobé is also developing a detailed political platform, which he plans to unveil at a later date.
In the meantime, he gave The Suburban an overview of his objectives.
"First, I want to put an end to collusion and corruption," he said. "It's not the sort of city the citizens of Laval want to live in."
"Second, I want to restore residents' confidence in the city administration, as well as its politicians. We've formed a working group on transparency and will have a lot more to say on that front when we announce the program."
"Third is to make Laval more convivial," he continued. "The city needs a more human face: It should only be cold in the winter. We need a place where it's good to raise our children in, with cultural activities like music and theatre that appeal to our young men and women."
Gobé also said that he favours protecting the city's environment from rapacious urban development.
"Laval is the only city of 400,000 [in Quebec] where you can still find farmland," he noted. "We even produce wine grown in our own vineyards! That's a heritage worth preserving for future generations."
In addition, Gobé committed to safeguard the city's aging populace.

"It's important to help seniors to remain in their homes as long as possible, by providing the resources that they need," he stressed. "Seniors don't want to be driven into retirement homes simply because there's a shortage of municipal services."

Gobé concluded by pledging greater fiscal probity.

"People work hard for the taxes that they pay," he asserted, "and as stewards of the city budget, we have to take care of their money as carefully as a mother or father would manage their family budget."
Jean-Claude Gobé appeared on Greek television, March 18, to share his vision for Laval with the city's Hellenic viewers.
(function(i,s,o,g,r,a,m){i['GoogleAnalyticsObject']=r;i[r]=i[r]||function(){
(i[r].q=i[r].q||[]).push(arguments)},i[r].l=1*new Date();a=s.createElement(o),
m=s.getElementsByTagName(o)[0];a.async=1;a.src=g;m.parentNode.insertBefore(a,m)
})(window,document,'script','//www.google-analytics.com/analytics.js','ga');
ga('create', 'UA-45892555-1', 'robertfrankmedia.blogspot.com');
ga('send', 'pageview');