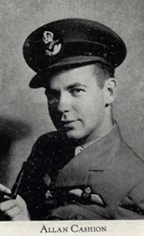 Charleval veut baptiser un pont « Allan Cashion » pour honorer le défunt héro de l'Aviation Royale du Canada


Par Robert Frank

Le mercredi 23 mai 2012
« La ville de Charleval a décidé de nommer un pont après le Lieutenant d'aviation George Allan Euart Cashion de
l'Aviation Royale du Canada
(ARC), de dire Sanda Men Makoth, au journal
The Suburban,
mais l'official municipal a expliquer que, pour ce faire, nous devons obtenir l'aval de sa famille ».

L'ancien résident du quartier Notre Dame de Grâce à Montréal et diplômé de l'École secondaire West Hill classe en 1939 a péri le 25 Juillet 1944 pendant la Seconde Guerre mondiale, lorsque son appareil a été abattu et s'est écrasé dans le champ d'un agriculteur. Le site du l'écrasement se trouve à quelques douzaines de mètres de l'endroit où se trouve un nouveau pont qui enjambe la rivière Eure à Charleval, Haute-Normandie.

Le Lt d'avn Cashion était membre de l'Escadron 421 de l'ARC, une unité qui a participé à la libération de la France du joug Nazi après le jour J. Il a piloté l'un de quelques dizaines de Spitfires Mark IX qui avaient décollé à 10 h 30 de procéder vers l'est afin d'effectuer une reconnaissance armée de Pont l'Éveque et la Seine, où les bases du Luftwaffe étaient concentrés.

Une demi-heure plus tard, à 10 miles au sud-est de Rouen, ils ont rencontré 40 appareils Messerschmidt Bf 109 qu'ils ont alors engagé dans un long combat aérien pendant lequel le Lt d'avn Cashion était la seule victime. Il avait 23 ans.

Un ancien combattant local, Guy Pesier, produit un croquis représentant la tentative manqué de Lt d'avn Cashion à parachuter à la sécurité de son Spitfire alors qu'il survolait à 30 mètres d'altitude le petit village de campagne.

Peu de temps après l'accident, plusieurs Charlevalais ont récupéré sa dépouille, l'enveloppa dans un linceul blanc et a donné le héros de l'ARC une sépulture décente dans la seule tombe militaire canadienne du village.
Au cours d'une entrevue téléphonique, M. Joël Huard de l'Association normande du souvenir aérien (ANSA) a décrit au journal
The Suburban
comment trois membres de l'ANSA — M. François Gauthier, M. Thierry Boisrenoult et M. Laurent Hérisson — avait récupéré les débris de l'avion écrasé du Lt d'avn Cashion il ya six ans:
www.ansa39-45.fr/localisation.htm
La cérémonie d'inauguration du pont se tiendra le 28 juin. Si sa famille peut être trouvée avant cette date, d'expliquer Mme Men Makoth, le pont sera nommé « Le Pont Allan Cashion ».

« Sans l'autorisation de sa famille, il nous sera dans l'impossibilité de donner son nom au pont, de dire Mme Men Makoth. Nous ne serons en mesure que de le dédier « à la mémoire de Alan Cashion »».

Elle a exhorté quiconque possède des renseignements sur les moyens de rejoindre des membres survivants de la famille du Lt d'avn Cashion à communiquer avec elle à l'adresse de courrier électronique : tourisme@charleval.net
Les parents de Lt d'avn Cashion, M. James Ross Cashion et Mme Olive Hélène Louise Harrison ont célébré leur noces en 1919. Ils demeuraient à 5770, rue Sherbrooke ouest à Montréal, au moment de sa mort. Les dossiers montrent que le Lt d'avn Cashion aurait pu avoir une jumelle Jacqueline, également né en mai 1921; cependant le journal
The Suburban
a été incapable de traquer toute trace qu'elle s'était épousé ou avait eu une progéniture.
Le Lieutenant d'aviation Allan Cashion
(function(i,s,o,g,r,a,m){i['GoogleAnalyticsObject']=r;i[r]=i[r]||function(){
(i[r].q=i[r].q||[]).push(arguments)},i[r].l=1*new Date();a=s.createElement(o),
m=s.getElementsByTagName(o)[0];a.async=1;a.src=g;m.parentNode.insertBefore(a,m)
})(window,document,'script','//www.google-analytics.com/analytics.js','ga');
ga('create', 'UA-45892555-1', 'robertfrankmedia.blogspot.com');
ga('send', 'pageview');
Please follow and like us: